A 10-mile day with segments through Grindelwald, from Männlichen to Kleine Scheidegg, and the Eiger trail from Eigergletscher to Alpiglen. Incredible mountain scenery, delicious food, and mountaineering history.
Click title to show track
Hiking Routes
Cable Car – Gondola – Train
The Männlichen Panoramaweg (Panorama Trail) is another gem I discovered while exploring in Google Earth. It is an easy walk with a lot of tourists but has great views of the Eiger North Face, the Wetterhorn, and down to Grindelwald. I remember reading about the Eiger when I was young and wondering at that time if I'd ever get to see it in person.
I had the usual breakfast – cold cuts, Müesli, juice, and milchkaffee (German Café au Lait) – at the First Berggasthaus and then boarded the cable car for a ride down to Grindelwald.
I strolled through town, where there were way too many tourists, and walked over to the Gondelbahn Grindelwald-Männlichen station for a ride up the other side of the valley to Männlichen on the world's third longest passenger-carrying gondola cableway. It was miserably hot inside the gondola, however, with only a small fresh-air vent for relief.
From the top of the gondola at Männlichen I took the super-scenic Männlichen Panoramaweg to the Berghaus Grindelwaldblick, where I would spend the night, just above Kleine Scheidegg .
After emptying most of my pack in my room and eating lunch in the restaurant (bratwurst with onion sauce), I hiked up toward Eigergletscher station to check out the glaciers but ran into hordes of tourists disgorged from the train station above. I escaped the tourists on the main path by taking the more difficult (and longer) Moraine trail, which was nearly empty and much more rewarding.
From Eigergletscher Station I took the Eiger Trail to Alpiglen, running several of the easier sections since I was in trail-runners and had a nearly-empty pack.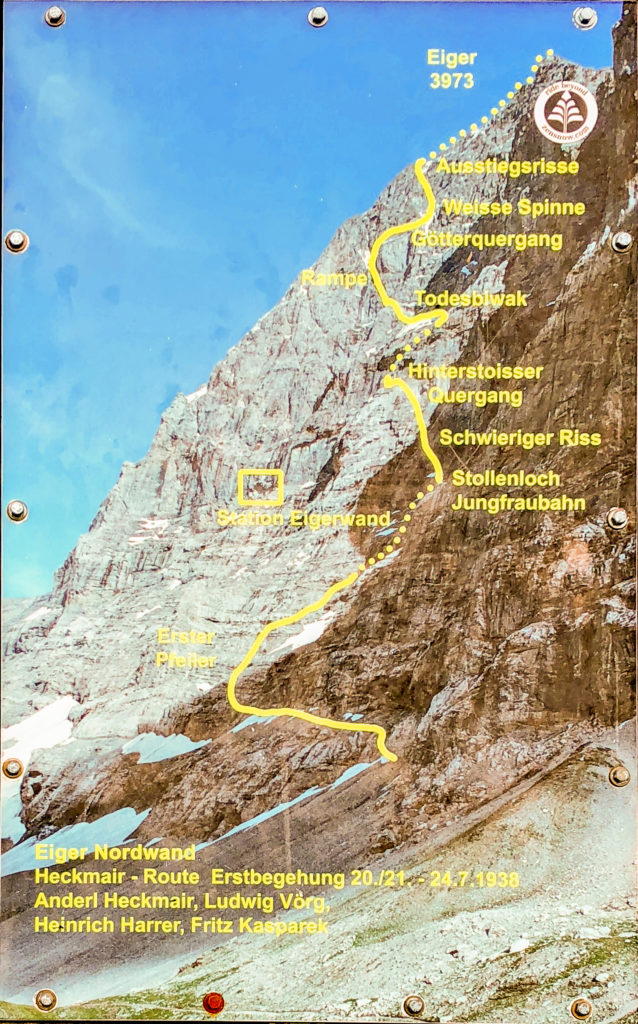 I read The White Spider decades ago, in which Heinrich Harrer describes not only the first successful ascent of the North Face of the Eiger (on which he summited) but the numerous previous attempts that ended in tragedy. And today I was standing here where so much mountaineering history had occurred.
I enjoyed a milchkaffe at Alpiglen, from where began so many of the ill-fated early attempts at the Eigerwand, and then rode the Wengernalpbahn train back up to Kleine Scheidegg and walked back up to the hotel.
I had my first Fondue dinner tonight while enjoying a spectacular view of the Eiger, Mönch, and Jungfrau.
All Photos